Dental Cleaning - Scaling & Polishing
Dental cleanings involve removing plaque (soft, sticky, bacteria infested film) and tartar (calculus) deposits that have built up on the teeth over time. Your teeth are continually bathed in saliva which contains calcium and other substances which help strengthen and protect the teeth. While this is a good thing, it also means that we tend to get a build-up of calcium deposits on the teeth. This chalky substance will eventually build up over time, like limescale in a pipe or kettle. Usually it is tooth coloured and can easily be mistaken as part of the teeth, but it also can vary from brown to black in colour.
Ultrasonic instrument
Commonly used first is an ultrasonic instrument which uses tickling vibrations to knock larger pieces of tartar loose. It also sprays a cooling mist of water while it works to wash away debris and keep the area at a proper temperature. The device typically emits a humming or high pitched whistling sound. This may seem louder than it actually is because the sound may get amplified inside your head, just like when you put an electric toothbrush into your mouth.
The ultrasonic instrument tips are curved and rounded and are always kept in motion around the teeth. They are by no means sharp since their purpose is to knock tartar loose and not to cut into the teeth. It is best to inform the operator if the sensations are too strong or ticklish so that they can adjust the setting appropriately on the device or modify the pressure applied.
With larger deposits that have hardened on, it can take some time to remove these, just like trying to remove baked-on grime on a stove that has been left over a long time. So your cleaning may take longer than future cleanings. Imagine not cleaning a house for six months versus cleaning it every week. The six-month job is going to take longer than doing smaller weekly jobs.
Fine hand tools
Once the larger pieces of tartar are gone, the dental worker will switch to finer hand tools (called scalers and curettes in dental-speak) to remove smaller deposits and smoothen the tooth surfaces. These tools are curved and shaped to match the curves of the teeth. They allow smaller tartar deposits to be removed bycarefully scraping them off with a gentle to moderate amount of pressure. Just like taking a scrubbing brush to a soiled pot, the dental worker has to get the areas clean and smooth.
Polishing
Once all the surfaces are smooth, the dental worker may polish your teeth. Polishing is done using a slow speed handpiece with a soft rubber cup that spins on the end. Prophylaxis (short for prophy) paste – a special gritty toothpaste-like material – is scooped up like ice cream into the cup and spun around on the teeth to make them shiny smooth.
Fluoride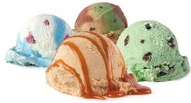 Your dentist may also apply fluoride. This is the final, and my favorite part of the dental cleaning! Fluoride comes in many different flavours such as chocolate, mint, strawberry, cherry, watermelon, pina colada and can be mixed and matched just like ice cream at a parlour for a great taste sensation! Make no mistake though, this in-office fluoride treatment is meant for topical use only on the surfaces of the teeth and swallowing excessive amounts can give a person a tummy ache as it is not meant to be ingested.
Fluoride foam or gel is then placed into small, flexible foam trays and placed over the teeth for 30 seconds. Afterwards the patient is directed to spit as much out as possible into a saliva ejector. The fluoride helps to strengthen the teeth since the acids from bacteria in dental tartar and plaque will have weakened the surfaces. It is best not to eat, drink or rinse for 30 minutes after the fluoride has been applied
Welcome to Rock House Dental, a team of dedicated dental healthcare professionals.
Patient Testimonials
What do you consider to be the most valuable aspect of your experience with us?
"Being made to feel at ease from the point of booking to your last treatment"
Is there any improvement that we could make improve your experience?
"No, all of my experiences have been excellent"
"I am more than happy with how my Dentist handles my treatments, keep up the good work! Anoup feels more like a friend than a dentist which very much helps with my nerves"
What do you consider to be the most valuable aspect of your experience with us?
"Overcoming my phobia of 'The dentist' and knowing I will not be terrified when my next appointment comes around"
Please feel free to make any further comments...
"Althought a nervous patient, which must make the dentist feel aweful; When treating me Rock stops at nothing to ease my fears and make me feel comfortable, I am very grateful. 
How does your experience in our practice differ from others?
I have been a patient at Rock since I was a child, I have always been treated well but following a recent leadership change I am even more impressed. I'm a nervous patient at best but I am always put at ease. 
How does your experience with us differ from others?
"Much more friendly and relaxed environment" 
How does your experience with us differ from others?
"My appointments are not rushed. Plenty of time is granted for each procedure. I felt more comfortable and able to ask questions about my treatments and was not make to feel a fool for asking"
Tell us about your experience...
"My experience with Rock dates back to 6th April 2010. Since that time I have very much appreciated improved dental health due in my humble opinion to the regular (3/6 month) treatments by my dentist and very professional hygienist".
"Recently, I have had a new upper denture fitted as it was giving me trouble beforehand. In the event, when the new denture was fitted , I was pleasantly surprised at how quickly and without endless modifications, that it had become comfortable. That experience to me was confirmation that my overall dental health was in safe hands. Thanks very much"
Tell us about your experiences..
"I have total confidence in my dentist at Rock Dental. He explains every aspect of my treatments diligently and the reasons why it is either necessary or advised. Good advice led me to make informed decisions about the care of my implants". 
Please tell us about your experience with us...
"Having had bad dental experiences since a child, I was nervous about every visiting a dentist again. Having seen an advert 'Nervous Patients Welcome' I plucked up the courage and called. Once I managed to get myself to the surgery Dr Anoup and his team worked hard to provide 1-2-1 comfort and help me to relax. It took a number of visits before I felt at ease as I was embarrassed by the look and condition of my teeth but now I no longer dread my dental visit. After intrusive work with implants I smile with confidents as much as possible. So glad I visited Rock".
Schedule a Consultation Now!
Book your appointment quickly & with no fuss!
Complete your details online and we will call you to arrange an appointment.